THE SECOND SUNDAY OF ADVENT
WEEK: DECEMBER 5TH – 11TH 2021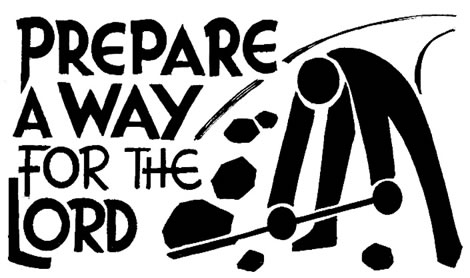 YOUR  CHARITABLE  PRAYERS are requested for our parishioners and friends, especially those whose names appear below.
SICK:  Sr. Catherine; Vivien Higgins; Margaret Lawless; Michael Guilfoyle; Dominic Boardman. Kath Green: Cyril Clarke; Elizabeth Flanagan, Angela Marshall, Mary Ruffle, Pete McNamara, Joseph McConnon, Margaret Cole, Trefor Cole, Marie O'Connor, Lee John Carter, Christine Wolstenholme, Anne Sobreski
LATELY DEAD:  Joan Fleet, Roy Wolstenholme, Fr. Norman Davitt SDB, Jack Green. Christine O'Brien
ANNIVERSARIES: Christopher Alan Whitehead, Mary Dillamore

COLLECTION: £567.74
Standing Order: £624 a month
CHURCH BOXES / DONATIONS: Mission £40.00; Foodbank £35.00; CAFOD £10.00
Many thanks for your kind generosity.
ONLINE FINANCIAL CONTRIBUTIONS TO THE PARISH:
Our Bank: Barclays Bank - Account Name: TSDT St Mary and St Patrick Oldham;   Sort Code 20 55 34;   Account Number 50949825;  Reference: Contr.
ADVENT MEDITIATION

Lasting just fifteen minutes or so, each one uses beautiful reflections based on some of those previously prepared by our beloved Sister Eileen.
During each meditation, we are invited to light a purple candle, one for each week, with a rose (or pink) candle for week three, or perhaps we might choose to just close our eyes and picture the advent wreath as we spiritually prepare for the coming of our Lord. 
Click here to listen to the podcast
HYMNS FOR THIS SUNDAY MORNING'S MASS
Entrance
Listen my people,
your hopes are answered.
Listen and hear me speaking.
Your hopes are answered,
your hopes are answered.
God waits for His people
to throw off the dark of night,
and to welcome His new day,
where all is light.
God waits for His people
to open wide their eyes
and to marvel at the sight
of His sunrise.
God waits for His people
to cast off their cloak of fear
and to walk upon this earth;
He is so near!
Psalm
Response:
Rorate caeli desuper,
et nubes pluant justum.
(Drop down dew, you heavens above
and let the clouds rain down righteousness)
(English translation)
Do not be full of anger O Lord,
neither remember iniquity for ever.
Behold the holy cities are laid waste,
Sion is deserted, Jerusalem desolate;
the home of your blessing and glory
where our fathers praised you.
Be comforted my people, be comforted;
your salvation is coming quickly.
Why are you consumed with sadness
and full of pain?
I will save you, don't fear
for I am the Lord your God,
the Holy One of Israel, your Redeemer.
Gospel Acclamation
Offertory
Sanctus
1st Communion
2nd Communion
THESE ARE THE DAYS OF ELIJAH
DECLARING THE WORD OF THE LORD
AND THESE ARE THE DAYS OF YOUR SERVANT, MOSES
RIGHTEOUSNESS BEING RESTORED.
AND THOUGH THESE ARE DAYS OF GREAT TRIAL
OF FAMINE AND DARKNESS AND SWORD,
STILL WE ARE THE VOICE IN THE DESERT CRYING
PREPARE YE THE WAY OF THE LORD.
BEHOLD HE COMES RIDING ON THE CLOUDS
SHINING LIKE THE SUN AT THE TRUMPET CALL
LIFT YOUR VOICE, IT'S THE YEAR OF JUBILEE
AND OUT OF ZION'S HILL SALVATION COMES.
THESE ARE THE DAYS OF EZEKIEL
THE DRY BONES BECOMING AS FLESH
AND THESE ARE THE DAYS OF YOUR SERVANT, DAVID
REBUILDING A TEMPLE OF PRAISE.
THESE ARE THE DAYS OF THE HARVEST
THE FIELDS ARE AS WHITE IN YOUR WORLD
AND WE ARE THE LABOURERS IN YOUR VINEYARD
DECLARING THE WORD OF THE LORD!
PRE – PARE YE THE WAY OF THE LORD (x2)
BEHOLD HE COMES RIDING ON THE CLOUDS
SHINING LIKE THE SUN AT THE TRUMPET CALL
LIFT YOUR VOICE, IT'S THE YEAR OF JUBILEE
AND OUT OF ZION'S HILL SALVATION COMES. (All x2)
PRE – PARE YE THE WAY OF THE LORD (x2)
Recessional
Let the valleys be raised
and the mountains made low,
every meadow and field overturn.
Make the pathway straight
and the highway run smooth
for the coming of God in our day.
God has come to His people,
He has promised of old.
He has raised up a Saviour
in the sight of us all.
You little child go before Him
like the prophets of old,
bringing news of His coming
by the mercy of God.
God will come like the morning
on the darkness of night,
as a light to the people,
like the breaking of day.
NOTICES:
All Masses will continue to be live streamed. A link is provided on the Parish website: www.smwsp.org.uk or via the Twitter App (@PhilipSumner13).
The Obligation to attend Mass on Sunday is still suspended until further notice. 
There is, now, no longer any need to book your places for the 10am Mass on a Sunday morning All the ropes that have blocked access to every second bench have now been removed. I would still ask that families try to keep to one bench and not join others already in a bench.
Face coverings in church are still encouraged even if they are not required by law; however, some people are exempt for medical or other reasons.  Social distancing is also still requested (1 metre apart from others not in your family).
THE CURRENT SACRAMENTAL PROGRAMME FOR FIRST COMMUNION
The next occasions for the current sacramental programme will be for the Holy Rosary Group, who will be making their first confessions at a reconciliation service on Saturday 4th December at 2pm in St. Patrick's Church. The St. Patrick's group will make their first confessions on Saturday 11th December at a reconciliation service in St. Patrick's Church at 2pm.
SYNOD
Pope Francis has called a Universal Synod which is taking place in every Catholic diocese across the world. The Synod is themed: "For a Synodal Church: Communion, Participation, and Mission". We want to hear from as many people as possible, those involved in the church and those who are not. You can take part by completing an online submission using the QR code or following this link.
www.surveymonkey.co.uk/r/3D3FXJ2.
Please share this link with family and friends. We have until 1st March 2022 to make our submissions then, after national and continental gatherings, the Synod of Bishops will gather in Rome in 2023 to reflect on what has been heard. Please remember the Synod in your prayers. Your contribution is invaluable and will make a considerable difference to the future of the Church in our diocese and across the world.
If you find the 13 questions to be too many to answer, just use the two questions: "What inspires you about the Church?"  and "What concerns you about the Church?" But try to spend an equal amount on both questions! And perhaps you could say what aspects of life we, as Church, should be responding o at this time.

CARITAS SALFORD'S ADVENT APPEAL 2021: #LOVED
Caritas Salford's work with children and families is at the heart of our Love in Action as much as it ever was, and is just one aspect of their diverse work supporting those facing crisis and challenge.
Please visit http://www.caritassalford.org.uk/advent-2021 to see the difference your donations have made in the past 12 months to over 5,000 families*.
CHRISTMAS MASSES
If you are planning ahead, I suggest that we have Mass on Christmas Eve (the first Mass of Christmas) at 8pm and then Mass on Christmas Day itself at the usual time of 10am. Masses on the Sunday (Boxing Day) will be at the usual times of 10am and 6pm. Then, I shall be going away for a few days!
ADVENT PODCASTS
Why not try out the Advent podcasts, prepared by our Folk Choir from previous services that were put together by Sister Eileen. These are available each week on the parish website.
THIS WEEK'S FEASTS OR SPECIAL DAYS
Monday 6th December – St. Nicholas. We know him best by his Dutch name, "Santa Claus". He is a saint revered in both the East and the West. After his parents died of the plague, he set about doing good deeds. The plight of three women who were destitute became known to him and he is said to have thrown three bags of gold through their window. These three balls of gold became the symbol used by the pawnbrokers representing financial aid in a time of need. He became Bishop of Myra, a city in Southwest Turkey. He is thought to have been murdered in the Diocletian persecution of 305.
Tuesday 7th December- St Ambrose:  St Ambrose was a lawyer in Milan and not yet baptised when, inspired the shouts of a child in the crowd, the people of the city made him their bishop. He was renowned for his eloquence as a preacher and for his gifts as a hymn-writer. He is said to have baptised Augustine.
Wednesday 8th December – The Feast of the Immaculate Conception.
Saturday 11th December: St. Damasus I (Pope) – Born in Spain, he became Pope in 366 and encouraged devotion to the martyrs of Rome. He, therefore, ordered that the catacombs, in which they were entombed, be excavated, drained, adorned and opened to the public.
PARISH RECONCILIATION SERVICE
There will be a Parish Reconciliation service on Sunday 19th December at 3.15pm. It should last about three quarters of an hour.
CHRISTMAS CAROLS WITH THE ST PHILIP NERI SINGERS AND DIOCESE OF SALFORD YOUNG ADULTS
An evening of festive music is coming to St Augustine's Roman Catholic Church this December with a special carol concert organised in association with the Diocese of Salford Young Adults.
Featuring beautiful performances of some of the best-loved carols from the wonderful St Philip Neri Singers, this festive concert will be followed by mulled wine and mince pies.
It will take place at 4pm on Sunday 19 December at St Augustine's Roman Catholic Church, Grosvenor Street, Manchester.
All are very welcome to attend. Please contact Fr Michael Deas at michael.deas@dioceseofsalford.org.uk for further information.
Parish reconciliation Service:
There will be a Parish Reconciliation service on Sunday 19th December at 3.15pm. It should last about three quarters of an hour.
"Stay With  Us  Lord  On  Our  Journey"p